(July 19, 2017) A renovation boom due to sky rocketing house prices has left New South Wales tradies flushed with cash. According to ServiceSeeking.com.au's quarterly Tradie Price Index, tradie prices in NSW are up 8.4 per cent this quarter, charging on average $62.90 per hour.
In Australia, the home renovations market employs around 1 million people, and contributes a colossal $99 billion to the economy. NSW tradies are reaping the benefits from this activity, and will enjoy higher wages as we move into the new financial year.
So, what can you expect to pay for a tradie in NSW?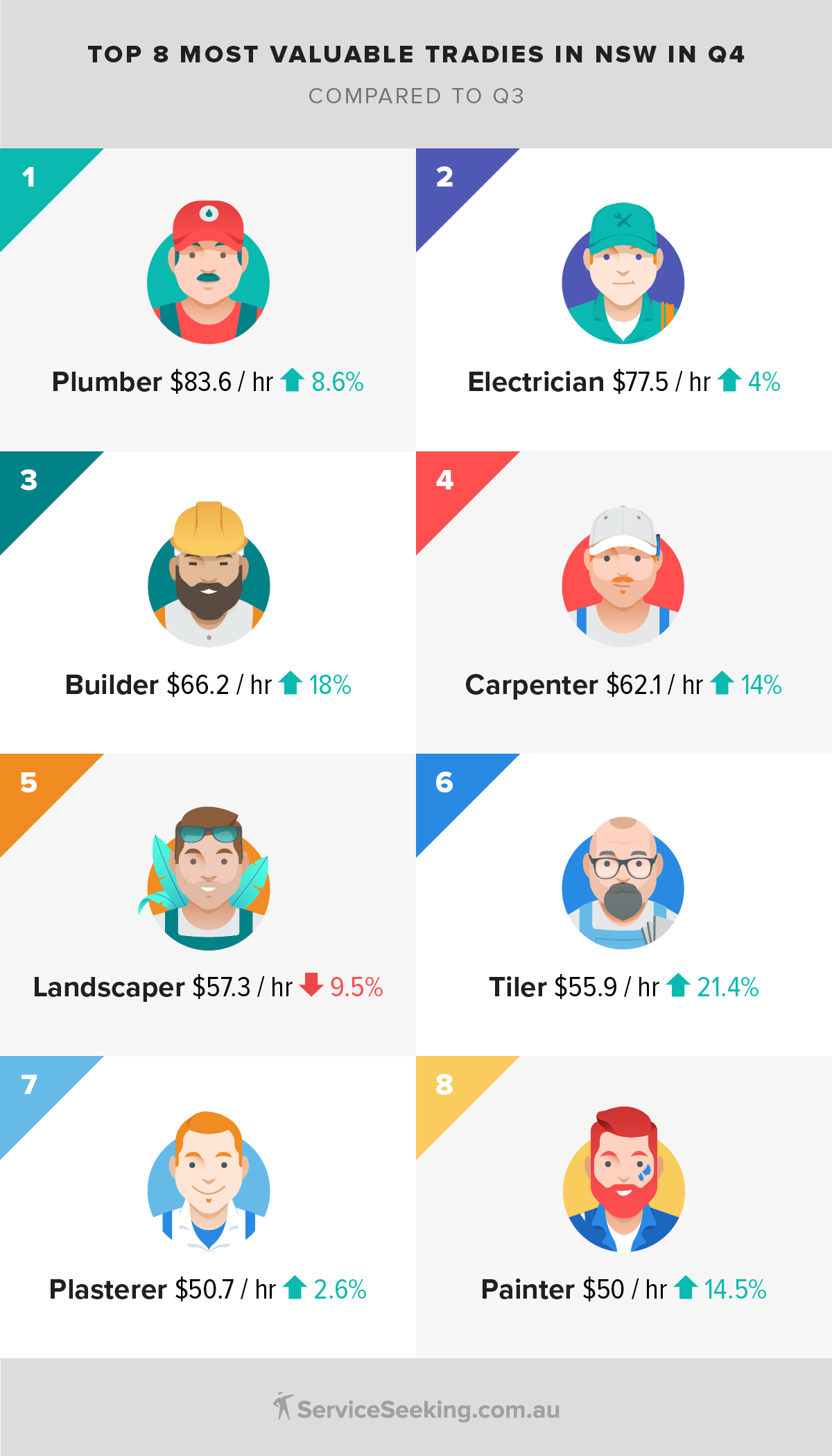 Plumbers are the most expensive in the state at $83.60 per hour, an 8.6 per cent increase on last quarter.
Electricians come in second, at $77.50 per hour, a quarterly increase of 4 per cent.
"Housing prices don't appear to be decreasing, so people are turning to renovation in order to live in their dream home," says ServiceSeeking.com.au CEO Jeremy Levitt. "Tradies are enjoying the benefits of this renovation surge."
Builders, at $66.20 per hour, are 8 per cent more expensive than last year, and 18 per cent more expensive than last quarter.
Although NSW Carpenters have seen a yearly drop of 14.5 per cent, they remain some of the most expensive in the country, at $62.10 per hour.
"The renovation frenzy is great news for NSW's tradies, who will benefit greatly from higher rates," says Mr Levitt.
Hourly rates are "gross" rates and aside from including the cost of labour, also cover the cost of running the business including insurance, tools, work vehicles, insurance and superannuation.
The prices were derived by comparing a sample of 52,000 quotes submitted during the FY17 Q4 through ServiceSeeking.com.au, the website for getting any job done.
NSW

FY17Q4, $/hr

FY17Q3, $/hr

% Quarterly change

FY16Q4, $/hr

% Yearly Change

FY17Q4 Nat Average, $/hr

% Diff on Nat Average

Plumber

$83.60

$77.00

8.6

%

$77.40

8.1

%

$86.00

-2.7

%

Electrician

$77.50

$74.50

4.0

%

$75.70

2.3

%

$76.30

1.6

%

Builder

$66.20

$56.10

18.0

%

$61.30

8.0

%

$63.50

4.3

%

Carpenter

$62.10

$54.50

14.0

%

$72.70

-14.5

%

$60.40

2.8

%

Landscaper

$57.30

$63.30

-9.5

%

$54.10

5.8

%

$54.30

5.4

%

Tiler

$55.90

$46.00

21.4

%

$53.80

3.9

%

$52.00

7.4

%

Plasterer

$50.70

$49.40

2.6

%

$53.50

-5.3

%

$51.90

-2.2

%

Painter

$50.00

$43.70

14.5

%

$51.40

-2.7

%

$44.90

11.4

%

Average

$62.90

$58.10




8.4

%

$62.50

0.7

%

$61.20

2.9

%